VATICAN CITY-In a surprising first move as the new Pope of the Roman Catholic Church, Pope Benedict XVI excommunicated Dusty Baker from the Catholic Church. When questioned about the move, Benedict said, "The Lord spoke to me in a vision. The Lord asked me, 'Why? Why would a man pinch hit for my son, Jason Dubois, who was two for three with a double and an RBI, for Jose Macias, a creature I put on the earth destined to crawl on his belly for all of his days?' I said to the Lord, 'Lord, what should I do?' The Lord answered, 'Rid my Church of his voodoo ways and his silly managing. And tell him to give me back my holy water.'"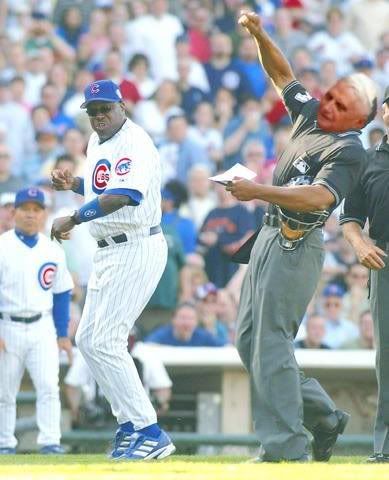 Dusty gets excommunicated as old friend Wendell Kim looks on.
The very next morning, Benedict excommunicated Baker. Aside from the Lord's holy decree, Benedict also cited God-fearing and long-suffering Cubs fans for his choice to excommunicate Baker. "These people have suffered for so many years. I felt that I had to do something. Since I am powerless to excommunicate him from Chicago, I took the next best step."
Benedict had some other holy words for Baker. "What I say is infallible, so get this through your fat head. Macias sucks and Remlinger can't get out lefties."