In an unprecedented move, Dusty Baker is going to add nuclear heaters to the Cubs bullpen at Wrigley Field, and will carry portable versions of the heaters to the bullpens of opposing ballparks. Dusty has been criticized for many of his moves, but Cubs fans everywhere are praising this innovation by Dusty.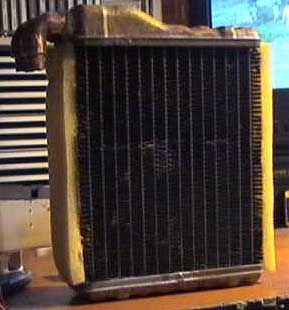 The Cubs' new bullpen heater
"Well, Dusty has no concept of getting his bullpen loose
before
he actually needs it, so this move will keep his relievers in a constant state of 'warm-uppedness,'" Cubs GM Jim Hendry said. "If only I could find a pen for his lineup card that was incapable of writing the letters 'M,' 'A,' 'C,' 'I,' and 'S.'"
Dusty worked up a sketch of the heater all by himself! "Dude, man. The thing just came to me in a daydream I had when I was walking my dog one day in my fishing buddy's boat. I just started gettin' to thinking about life and how life couldn't survive without heat and I started thinking how we need heat to live and how we needed a bullpen last year to make it into the post season, and I just thought that the two went together," Dusty rambled.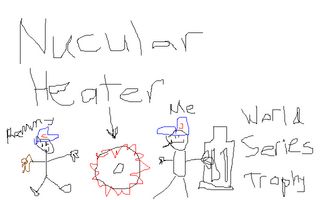 Somehow, scientists managed to come up with a workable prototype for the heater from Dusty's sketch.
Cubs starter Mark Prior applauded the move, but was upset that the idea hadn't occurred to Dusty before the infamous 2003 NLCS. "Where the hell were these heaters for Game Two, man? Damn. We were up 12-2 when he sent me back out there. Couldn't he have warmed up a bat boy or something?"
Dusty's next venture? Installing feces-proof sheets in his bed for every time he craps it when the Cubs have a late-inning lead.