8/18 .444/.565/.722 1 HR (now 2). Those were Walker's numbers against Remmy. So what does Dusty do? He takes out Wuertz, who was cruising, and replaces him with a pitcher who has consistently struggled against lefties his whole career, and has especially struggled against Larry Walker. Absolutely mind-boggling. Well, it's not actually. See, Remlinger is a lefty, and so is Larry Walker! Nevermind the fact that looking at Larry's 3 year splits, he hasn't exactly struggled against left-handed pitching. And never mind the fact that it's known by everyone else in the universe that Remlinger gets right-handers out more effectively than left-handers. Statistics don't prove shit! 100 years of baseball tradition is the only way to go. Well, not the only way to go. Darren Baker's paper fortune teller has been Dusty's crutch for the extra-tough decisions that he's been forced to make.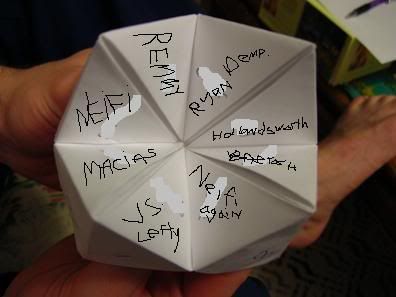 Darren's homemade fortune teller, which guides Dusty's moronic decisions.
It's going to be a long, long, season...